On the afternoon of October 19th, the first phase of the Chengle Forum of Herzen International Academy of Arts was held in Qianfoshan Campus, and Professor Kong Xinmiao, member of the Standing Committee of the Art Education Committee of the Ministry of Education, member of the National Guidance Committee for Aesthetic Education in Colleges and Universities, deputy director of the Art Education Committee of the China Artists Association, and doctoral supervisor of SDNU, was invited to give a special lecture entitled "Admission: Taking an Important Step in Life, Studying: Three Characteristics of New Art Talents". The lecture was chaired by Zhang Maocong, Vice President and Director of Herzen International Academy of Arts. More than 300 teachers and students from Herzen International Academy of Arts, Academy of Fine Arts and Conservatory of Music listened to the lecture.
Kong Xinmiao introduced the theme from the four changes after enrollment, and comprehensively analyzed the development trend of art education in colleges and universities. The lecture was broad and interesting, and everyone actively asked questions and interacted warmly.
Zhang Maocong said that Professor Kong Xinmiao made a wonderful report with great enlightening significance starting from the two important stages of new students' admission and study, which pointed out the direction for students' professional integration learning and improvement, and had important guiding significance for art majors on how to carry out professional learning and personal academic planning.
After the lecture, the students expressed their great benefits, and the lecture ended successfully with warm applause.
"Chengle Forum" is an international academic platform built by Herzen International Academy of Arts for students, and SDNU will regularly invite domestic and foreign experts and scholars to hold high-level academic reports for students.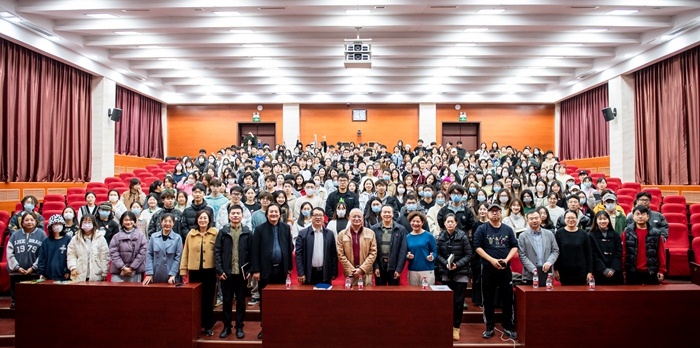 Translated by Li Xinyao
Reviewed by Li Xinyao
Edited by Jia Bingbo