On August 20th, the Jinan alumni representative forum of SDNU Alumni Association - "alumni economy" high-end forum of SDNU and the preparatory meeting for the City trip of outstanding alumni of universities in Jinan were held in the conference hall of Shandong Sports Industry Service Hall. Vice president Xu Shuangqing, President Bian Guofeng of Taishan Sports Industry Group, and some representatives of Jinan alumni attended the forum.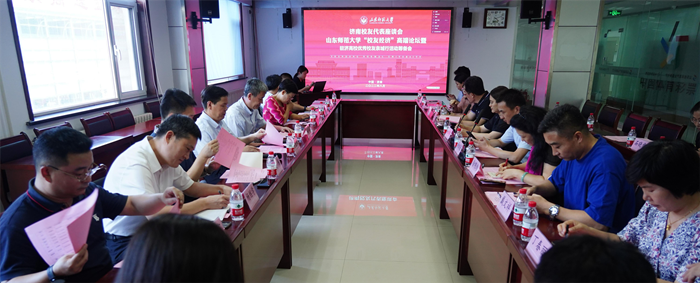 On behalf of SDNU, Xu Shuangqing expressed gratitude to the alumni who won the honor for SDNU and made positive contributions to the construction and development of SDNU. He briefly introduced the achievements of SDNU in recent years, and hoped that alumni would continue to care about and support the development of SDNU, continuing to put forward valuable opinions and suggestions for the development of SDNU, and make joint efforts to promote the development of SDNU and the personal career of alumni, so as to achieve mutual benefit and win-win results.
Xu Mingzhen, alumni representative and chairman of Hongjing Cultural Industry Co., Ltd., introduced the activities of Jinan alumni branch. Quan Dong, newly elected secretary general of the alumni branch and chairman of Jinan Zhibo Pharmaceutical Technology Co., Ltd., made a speech.
Zhao Xiangyi reported on the development of alumni work and the preparations for the high-end forum of "alumni economy" of SDNU and the City trip of outstanding alumni of universities in Jinan. The alumni participating in the forum had a heated discussion on the organization and preparation of the forum activities and the cooperation between SDNU and local schools and enterprises, and fully expressed their opinions and suggestions.
SDNU will further enrich the connotation of alumni work, explore a new path for the development of "alumni economy", improve the operation mechanism of alumni exchange, cooperation, investment and donation, and maximize the mobilization and cohesion of alumni to participate in and support the reform and development of SDNU.
Translated by Wang Huiyang
Reviewed by Wu Haochen
Edited by Jia Bingbo