In order to welcome the victory of the 20th National Congress of the Communist Party of China,on September 20th, the "Harmony - Danqing • Huale" exhibition jointly held by the Academy of Fine Arts and the School of Music was opened at the Art Museum of Qianfoshan Campus. Tang Zhouyan, vice chairman of the Provincial Committee of the Chinese People's Political Consultative Conference and secretary of the Party Committee of SDNU, and Xu Shuangqing, vice president of SDNU, attended the opening ceremony. Responsible comrades of all units attended the opening ceremony.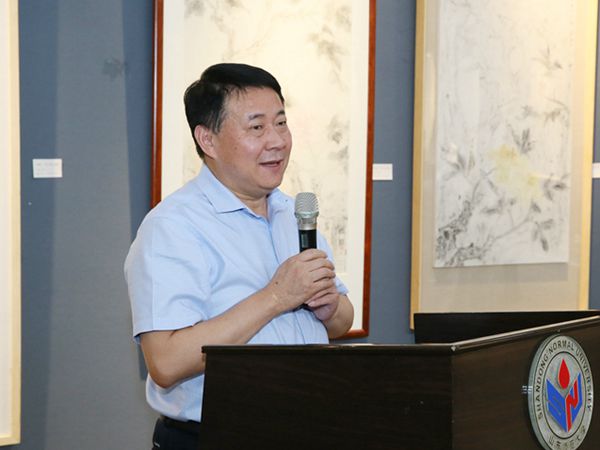 In his speech, Tang Zhouyan pointed out that this exhibition is a vivid practice of implementing General Secretary Xi Jinping's aesthetic education work policy, and a useful exploration to promote the teaching and research of "new aesthetic education" in the context of "new liberal arts".
With the theme of "Integration of Art and Taoism", the exhibition displayed more than 60 representative works of Liu Mingbo, Sun Xikai and Wu Lei. Three teachers explored and innovated on the basis of inheriting and promoting the ancient Chinese painting brush and ink, and the works were rich in connotation. Yang Dan and Wang Yanan, a music conservatory of music, performed "Lan Ke Ke" to show the enthusiasm and vitality of traditional folk music to keep pace with the times, and injected new vitality into the inheritance and development of folk music.
The exhibition reflects the high academic taste, reflects the active exploration of Chinese painting, as the dominant discipline of the Academy of Fine Arts, in the construction of the national first-class professional and doctoral programs of fine arts, and shows the firm belief of art educators to welcome the 20th National Congress and praise the new era.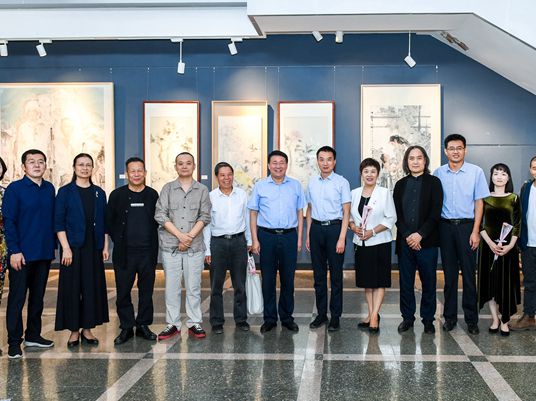 It is reported that the exhibition will be on display from September 20th to 30th.
Translated by Wang Xiaoyu
Reviewed by Mu Kecheng
Edited by Jia Bingbo