On the afternoon of September 9th, SDNU held a symposium to celebrate Teachers' Day in Qianfoshan Campus to commend the model of teaching and education in Shandong Province, the person of the year of ideological and political teachers, the honorary winner of the person of the year of college counselors, the top ten teachers and workers of SDNU in 2021 and the teaching staff who have been teaching for 30 years.Tang Zhouyan, Zeng Qingliang, Zhang Wenxin, Man Baoyuan, Xing Guang, Wang Chuankui, Wan Guangxia, Zhou Jing and Xu Shuangqing attended the symposium. The main principals of middle-level units and more than 270 representatives of teachers and students attended the symposium.
On behalf of SDNU, Tang Zhouyan extended greetings to all faculty members, and paid high tribute to the old leaders and comrades who had made contributions to the reform, construction and development of SDNU for a long time.
Tang Zhouyan stressed that the construction of teaching staff is a long-term systematic project, which needs the joint support and cooperation of all aspects of SDNU.
Zeng Qingliang pointed out that promoting the construction of first-class universities calls for more high-quality teachers. At present, SDNU has entered a critical period of development. It is particularly necessary for SDNU to further gather consensus and join forces.
At the symposium, Zhang Wenxin and Man Baoyuan read out the list of commendations respectively.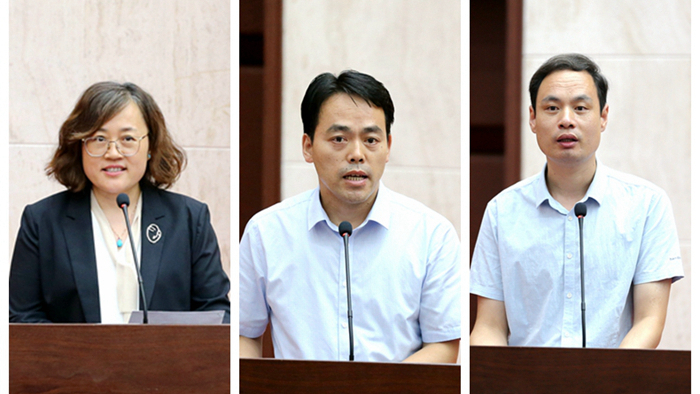 Li Ping, Liu Haijiang, Niu Ben, Ding Tonglou and Liu Yansheng spoke successively. Student representative Li Zhiyue spoke and expressed sincere thanks and sincere wishes to the teachers of SDNU.
Translated by Zheng Tong
Reviewed by Ji Zerui
Edited by Jia Bingbo